Are you sick of having polluted and excessively cold air circulation in your home? If so, you need an air purifier that does more than purifying the air by working as a heater. A cold environment is the biggest reason to grow mold spores, dust mites, and other pathogens. Breathing in such a condition has a ton of health issues which an air purifier and heater combo can work against. 
However, getting the best air purifier heater combo that can serve multipurpose can be a daunting job. There are a ton of things you should consider in the machine which our team experts at. Do you want an immediate solution to such trouble from polluted air to cold air circulation? Our expert team has a complete suggestion for the best air purifier heaters for you.
Table of Content:
We've represented all the sections of the article in the following table of content. You can get help from this section to navigate through the article easily.
Comparison Chart:
The following chart will help you do a quick comparison between the products we've selected in this article: 
4 Best Air Purifier Heater Reviews 2021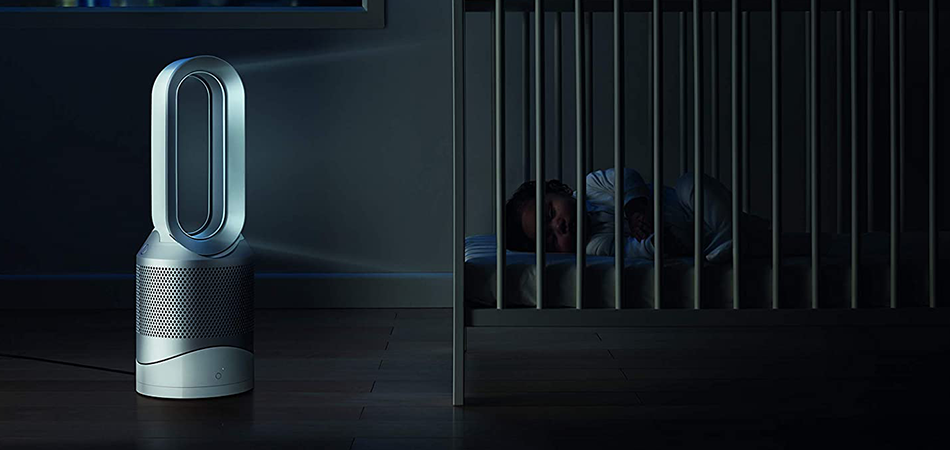 Getting the right air purifier heater combo can be a lot easier if you get experts' suggestions beforehand. Here are the 4 best air purifier heater combos with their details, what they offer, and how they can benefit you:
1. Dyson Pure Hot + Cool, HP01 HEPA Air Purifier, Space Heater & Fan
You don't need to spend money on an air purifier and a heater separately since the Dyson will give you both facilities. This excellent device comes with some advanced functions to do both purifying and heating air. Moreover, it can catch up to 99.97% of allergens and other contaminants using its HEPA filter technology. You will find over 77 gallons per second of healthier, smoother, and safe airflow from this tool in your home.
Meanwhile, you will have a fast and moderate air heating facility for a long time through this magnificent air purifier heater. Your room will be filled with heated air within a short time through this best air purifier heater combo. Besides, its tower fan with a sleep timer is easy to set at any place as well. There are ten airspeed settings and automatic shut off system will bring you much comfort and support during the operation.
With an uninterrupted stream of fresh air circulation, it will make your home full of healthy air. Furthermore, this excellent device features up to 350 degrees of oscillation to provide a smooth air circulation around the room. You can inspect the air quality on its display, and the night mode option will offer you the best relief than other purifiers.
Dyson Pure Hot Features:
This device comes with multiple functions to purify the air, detect airborne particles, and diagnose the air quality.
It's designed with the air heating functionality to heat up your room with warm air circulation.
The multiplier technology and up to 350 degrees of oscillation make it highly comfortable.
You find a tower fan, sleep timer, automatic shut-off system, and ten air-speed settings in it.
It lasts long without any maintenance and can capture all the airborne pollutants and microorganisms.
2. pureHeat 2-in-1 Heater/Air Purifier & Air Cleaner
The  pureHeat has been the first choice for users worldwide due to its air heating and purifying performance. You can pay heed to this air purifier heater combo to keep your home full of fresh air and heated airflow. The combination of heat and air purification technologies has been renowned for capturing airborne particles and heating the air.
It incorporates the Positive Thermal Coefficient heating element to warm up the air. The active carbon filter and true HEPA filter is efficient to sanitize air by releasing all the contaminants as soon as possible. Moreover, it features an LCD screen to show the overall execution and quality of the air. The simple control panel and user-friendly operation make it highly approachable. The timer and quiet mode functions add more convenience in operating the air purifier heater combo.
Furthermore, the wireless remote system and tip-over shut-off function will bring comfort as well. You can easily carry this portable heater and fan combo anywhere for perfect set up. You should go for this best air purifier heater combo over other products to have the best outcome.
pureHeat 2-in Features:
This air purifier can remove dust, pollen, mold, virus, bacteria, allergens, and other airborne particles precisely.
You'll get a positive Thermal Coefficient element with heated airflow whenever you want.
It comes with a wireless remote system, a simple control panel, and an LCD screen for convenience.
The combination of quiet mode functions, tip-over shut-off function, and timer make it perfect for all situations.
You can easily carry it around and have an incredible outcome for a long time.
3. Envion by Boneco – Four Seasons FS200 – 4in1 Air Purifier, Heater, Fan & Humidifier
It's amazing about having multiple advantages, including air-purifying, air heating, fan, and humidifier with only one device. And the Envioin Four Seasons FS200 is designed for providing you with all these advantages. It can sanitize air with much accuracy by capturing airborne contaminants by dint of its true HEPA filter. Besides, it can incredibly manage heated air circulation during the cold seasons through its air heating functionality.
To manage cool breeze around your room, it incorporates a powerful fan. It will allow you to adjust the humidity as per your desire through its advanced functions. Multiple settings and user-friendly designs will keep you in the comfort zone to deal with it for a long time. Most impressively, you can set various functions simultaneously without facing any operational restriction.
The polyethylene terephthalate exterior and affordable price range put it highly accessible to all. Besides, the combination of three heat settings, automatic shut-off function, and the timer make it one of the most-used home appliances worldwide. To keep your room comfortable, warm, and out of all concerns, you can pick this heater and fan all in one right now.
Envion by Boneco Features:
This device provides air purification, air heating, air-production, and humidifier service simultaneously.
It can clean and heat air in medium to large rooms quickly by dint of its advanced functionality.
You find warm air in winter, the cool breeze in summer, humidified, and refreshed air in four seasons through it.
The inclusion of advanced functionality, multiple settings, and true HEPA filter make it highly demanding.
With the polyethylene terephthalate exterior and user-friendly design, it has been reliable to all.
4. Pure Enrichment PureZone 3-in-1 Air Purifier
Are you seeking the best air purifier and heater combo? If so, you must set your mind for the Pure Enrichment PureZone to meet all your needs. It will provide you with three-stage air purification and capture up to 99.97% of pet dander, dust, pollen, smoke, virus, and bacteria. The attachment of the true HEPA filter activated carbon filter, and pre-filter can sanitize air more than any other typical purifier.
It features built-in UV-C light to destroy illness-causing microorganisms.
Moreover, it's not associated with harmful ionizers; hence you find optimal relief from such concerns. As it incorporates three fan speeds, three automatic timer settings, and the night mode option, you find optimal operational support. The built-in handle, filter reset indicator, and lower noise level will bring much comfort and support to you.
You can use it in a large room up to 200 square feet. The durable and lightweight design will let you utilize it for a long time with less hassle. Even you can purchase at a low rate and replace the filter without any restriction. However, you should choose this excellent air purifier to manage clean, healthy, and hygienic air circulation to your home.
Pure Enrichment Features:
This air purifier heater combo offers three-stage purification by the activated carbon filter, true HEPA filter, and pre-filter.
It comes with built-in UV-C light to rescue you from all the viruses, bacteria, and microorganisms.
You find three timer settings, three fan speeds, a low power-consumption facility, and ease of use through this device.
The portable design, built-in handle, and filter reset indicator make it accessible to all.
It can cover up to 200 square feet of room at ease and last long without any maintenance.
Why Do You Need An Air Purifier And Heater Combo?
As you're exploring the best air purifier heater combo, you're for sure well informed about such a device's effectiveness and contribution in your life. Nonetheless, we want to illustrate some reasons behind the purchasing purpose of this tool.
It will bring up sanitized air in your home by capturing all the airborne contaminants and ill-causing microorganisms.
You can enjoy heated air circulation during the cold temperature by dint of such an all-round device.
An air purifier and heater combo feature automatic on/off function, quiet mode function, night mode function, timer, and filter indicator to aid you most.
It can manage cool breeze through its fan and humidified air through its advanced functions.
Such a versatile tool is perfect for larger rooms and applicable in different seasons to meet all the needs.
You find various settings and manipulate multiple operations at a time without any issues through it.
An air purifier heater combo comes with a durable and portable design and needs low maintenance.
Frequently Asked Questions
Here are the answers to some frequently asked questions. You can collect more queries about the discussed product from this section.
Do air purifiers help with heat?
Usually, an air purifier can't impact the temperature of the air. But if it features a heater, it can efficiently heat the air as per the direction.
Is the air purifier heater combo safe?
Almost all the air purifier heater combos are designed by managing the optimal hygienic procedure. But some devices seem detrimental to the coordination of ionizers.
Does Dyson air purifier work?
Beyond doubt, Dyson is the most-used and prominent air purifier in the market. In terms of performance and perfection, it has surpassed its competitors.
How many hours a day should you run an air purifier?
There is nothing wrong if you run your air purifier 24 hours a day to get the prospective outcome. But you have to ensure the purifier is thoroughly safe and qualified.
Final Thought
Both air purification and heating are important if you live in where the air is polluted alongside a cold environment. All the air purifier heater combo devices above are capable of giving you the optimal solutions to both the coldness and air pollution issues. However, if you want an expert opinion on the best air purifier heater combo, go for the PureZone 3-in-1 Air Purifier.
It comes with both heating and air purifying functionalities to keep you in a cozy environment all the time. Moreover, it provides better airflow along with UV-C light to protect you from harmful microorganisms. It has a HEPA filter for eliminating 99.97% of allergens including pet dander, dust, pollen, smoke, virus, and bacteria.
Affiliate Disclosure: As an Amazon Associate I earn from qualifying purchases.