Having an air purifier at home will give you and your family healthy and fresh indoor air. As you know, indoor air is more polluted compared to outdoor air. While most people spend 90% of their time indoors, there is a great concern for the quality of indoor air. Although proper ventilation can help, having the best plasma air purifier makes a great difference in the quality of the air you breathe.
Plasma air purifiers work amazingly well to capture 99.97 % of pollutants. Therefore, your house will be free from bacteria, dust, viruses, pollen, and smoke, among other air pollutants. Finding an ideal plasma air purifier for your home can be hectic. The devices come in different designs, sizes, and they also work differently. We have prepared this review to help you pick the most suitable model and understand the benefits of plasma air purifiers.
Are Plasma Air Purifiers Safe?
Air purifiers have revolutionized air quality in homes and commercial places. Spending most of your time indoors puts you at a high risk of indoor pollutants. Some symptoms you can experience include congestion, eye irritation, and headache. However, these symptoms vary based on the type of pollutant.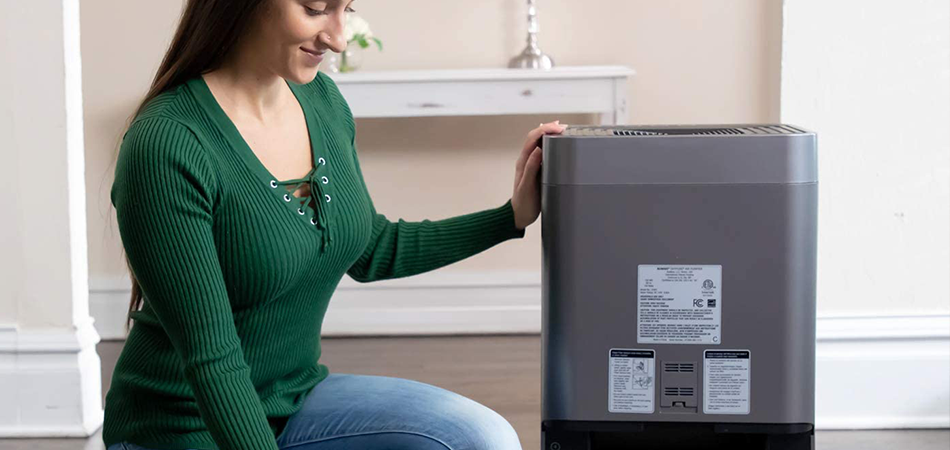 Using air purifiers boosts indoor air quality and also eliminates the physical symptoms caused by indoor air pollution. But are plasma air purifiers safe to use? 
According to Winix, Plasmawave doesn't lead to ozone emission, so it is considered safe to use. Therefore, using plasma air purifiers will not cause asthma, breathing problems, or irritation.
Air purifiers with ozone emission are dangerous, especially for people with breathing problems. If you inhale even the smallest amount of ozone, this leads to lung irritation. Other effects include coughing, throat irritation, shortness of breath, and chest pain. Additionally, you also put yourself at risk of respiratory infections.
Table of Content:
The following are some of the main topics we have covered in our plasma air purifier reviews. Click any link to reach each section.
Comparison Chart:
We have also included a quick comparison chart at a glance to help you compare the top features of our selected plasma air purifiers.
5 Best Plasma Air Purifier Reviews 2021
If you need quality indoor air for your home, get the best plasma air purifier. These are essential devices that capture small microns that you can't see with your eyes. They get rid of viruses, bacteria, and chemicals hence keep your indoor air quality sanitary. We have some top five selected plasma air purifiers that give superb air filtration and reliable performance.
1. Sharp Triple Action Plasmacluster Air Purifier
Keep your family healthy at home with the sharp plasma air purifier. This Plasma air purifier is great if you want to cover an area of up to 254 square feet. One of the top aspects of this air purifier is the advanced technology to provide cleaner air. Its plasma cluster ion technology captures microscopic pollutants that other air filters cannot.
This is one of the safest plasma air purifiers that you can trust. Unlike other air purifiers, this model produces five times less ozone. The device also features a washable pre-filter to trap all the air pollutants that pass through the filter. Additionally, it features an activated carbon deodorizing filter that eliminates all odors. The HEPA filtration gets rid of 99.97% of air particles to give you quality indoor air.
Using this plasma air purifier is easy and features a smart sensor for auto operation. The number of impurities in the air also dictates how fast the fan will run. This plasma air purifier is economical because it gives you longer life and lower the cost of operation. You need to change the filters from two to five years, which keeps the operating costs minimal. You can also choose to use a dim or bright light based on your liking.
Sharp Triple Action Features:
It has smart sensors that monitor the quality of air indoors to give you a comfortable environment.
The plasma air purifier eliminates irritants and features a quiet fan that utilizes a 3-stage filtration process.
Low operating costs because the purifier has durable HEPA filters that you need to change from 2-5 years.
Plasma cluster ion technology reduces bacteria, viruses to keep indoor air quality and smelling fresh.
This plasma air purifier is safe to use because it produces 3 times less ozone compared to other purifiers.
2. NuWave OXYPURE Large Area Smart Air Purifier
Several things affect indoor air. It can be smoke, pollen, dust, pet dander, or mold, among others. However, with one of the best smart air purifiers like NuWave OXYPURE, you can be sure of clean indoor air. This plasma air purifier is suitable for large, and it is efficient when it comes to eliminating all kinds of pollutants in your home.
This plasma air purifier works smartly and promotes better sleep. It eliminates pollutants and airborne allergies that can irritate your lungs or sinuses. Furthermore, it works without compromising the quality of your sleep since it works silently. This plasma air purifier is also economical and energy-efficient. Plus, it features auto-monitoring features and smart controls for ease of use. Additionally, you get durable and reusable filters, which saves you replacement costs.
You will also be impressed with the advanced filtration process of this purifier. It has four filters, including a pre-filter (stainless steel) that can serve you for up to 20 years. A bio guard filter and the ozone emission removal filter also have a lifespan of 20 years. Lastly, the HEPA and carbon filter enhances its filtration. This plasma air purifier also has a powerful fan for effective air circulation.
NuWave OXYPURE Features:
There is an energy-efficient plasma filter with a low-speed fan that senses poor quality indoor air with it.
The machine features four filter systems that work well to eliminate air pollutants.
It is energy efficient and has a long life filter not to spend money on filter replacement.
You can choose up to 6 fan speeds and 6 odor levels to improve the air in your house.
It allows you to set sleep mode so it can continue working without compromising your sleep.
3. Winix 5300-2 Air Purifier with True HEPA
Prevent breathing problems and other respiratory conditions by improving the quality of indoor air. Get the Winix 5300 air purifier that is suitable for home environments. It's the best air purifier true HEPA works well to eliminate mold spores, dust, smoke, pet dander, and other pollutants. It is suitable for 360 sq ft. Therefore, you can use the plasma air purifier in places like the kitchen, bedroom, or living room.
The plasma air purifier gives you easy operation. It has an indicator for filter replacement, so you will know when to change the filter. Replacing the filters is also an effortless job; you just need to wait for the indicator to illuminate. Additionally, the filter has an LED light that changes based on air quality.
You will find dual smart sensors and an auto mode that adjust the fan speed. This unit will activate sleep mode automatically and provides quiet operation while keeping energy consumption low. When there is light, it will automatically turn to auto mode. The activated carbon filter alongside the HEPA filter promotes clean air. It also utilizes plasma-wave air cleaning technology to neutralize viruses and bacteria.
Winix 5300- Features:
The plasma air purifier has an indicator to alert you of the right time to replace the filter.
Automatically goes to sleep mode, and it will change back to auto mode when there is light.
LED light changes to show you real-time air quality for good, fair, and poor.
The machine features built-in dual smart sensors to adjust and measure the speed of the fan.
It has Plasmawave technology combined with advanced 4 stage filtration that improves air quality.
4. InvisiClean Claro Air Purifier
Plasma air purifiers come at a relatively higher price than other types. However, this doesn't mean that you can't get the most affordable air purifier within budget. InvisiClean Claro plasma Air Purifier is a compact model that provides high-performance filtration. It features a HEPA filter that captures 99.97% of pollutants in the house.
The device is great for large rooms, and it consumes low power. It features a low EMF radiation motor (DC) and four fan speeds to offer more air output while consuming less electricity. So, you don't expect your electricity bills to hike when you use this air purifier.
You can monitor the real-time air quality because it has sensors that will detect any indoor air quality changes. The machine's auto mode allows the fan speed to adjust automatically. The four fan speeds provide silent operation, you can use it in the house without anyone complaining about the noise. Other great features of this air purifier include sleep mode, humidity display, and UV bulb change indicator.
InvisiClean Claro Features:
It has efficient air filtration that eliminates all types of pollutants in your house.
The machine is energy efficient and provides a silent operation and great for any room.
You'll get a powerful four-speed motor to provide more air output while consuming less power.
This plasma air purifier has a display for temperature, humidity, and real-time air quality.
It features a powerful design and can clean air in living room space up to 375 square feet.
5. LEVOIT Air Purifier
Odors, Fumes, smokes, pet dander, and dust are all things that affect indoor air quality. You can relieve the symptoms associated with these pollutants by having the LEVOIT air purifier. This is a cheap air purifier for dust that also works well for pet owners.
The machine features a washable pre-filter that traps lint, hair, and pet fur. You will also find an activated carbon filter to capture smoke, pet odor, and cooking odors. This purifier also utilizes a HEPA filter capable of capturing up to 99.97% of particles like dust, dander, spores, and pollen.
You can use this plasma air purifier in different places like the bedroom, living room, kitchen, nurseries, and offices. It features a compact and portable design and has a handle to help you relocate it to different rooms. This plasma air purifier is also energy efficient; it uses little energy and provides superb air filtration.
LEVOIT Air Features:
Great plasma air purifier for people with allergies and pets. So, no worries about pet hair and other house odors.
It comes with a preliminary filter, carbon filter, and HEPA filter that contribute to quality air.
The plasma air purifier offers silent operation, and it is energy efficient. It has a power rating of 50W.
Compact and portable design so you will not have trouble moving it to different rooms.
It offers rapid purification, which makes it suitable for kitchens, offices, bedrooms, and nurseries.
Benefits of Plasma Air Purifier
There are many benefits of purifiers you will enjoy at home. They eliminate pet dander, dust mites, pollen, bacteria, and other indoor pollutants. Here are more benefits of plasma air purifiers.
These air purifiers utilize plasma wave technology that kills all pollutants at the molecular level.
Plasma air purifiers are easy to maintain because you don't have to change their filters often.
The devices are also energy efficient since they don't consume a lot of power like other models.
This is the most effective air filtration technology that promotes healthy indoor air.
Plasma air purifiers sterilize bacteria and control all types of household odors.
Final Verdict
There are many air purification methods you can use at home, office, or in commercial settings. However, plasma filtration offers efficient air filtration. Initially, these air purifiers were made for hospitals to reduce allergens and illness risks. The best plasma air purifier eliminates viruses and bacteria in the indoor air, which promotes healthy living.
We recommend the Winix 5300-2 Air Purifier, this is an affordable option that provides effective purification. It features odor reducing carbon filter and a HEPA filter to absorb all pollutants. Furthermore, it provides easy operation and you can see the smart sensors that show air quality.
Affiliate Disclosure: As an Amazon Associate I earn from qualifying purchases.