Air pollution is the most dangerous thing that you cannot just escape from, even in your bedroom. Pollutants such as the smoke from your kitchen, the burning woods, trapped mice are creating a hazardous environment in your house. An air purifier works really great, filtering the pollutant particles from the air you're breathing. Mooka Air purifiers work like a charm when it comes to the best air purifier brands.
If you're planning on getting a Mooka air purifier, you might have come across so many options and got confused. Well, no more confusion, our expert team has opted out for the best  Mooka air purifier reviews that you can get your purifier from. Our team has the best air purifier suggestions that can give you a chance to breathe pure air in your house. So, stick to the article if you want to live healthy by breathing healthy!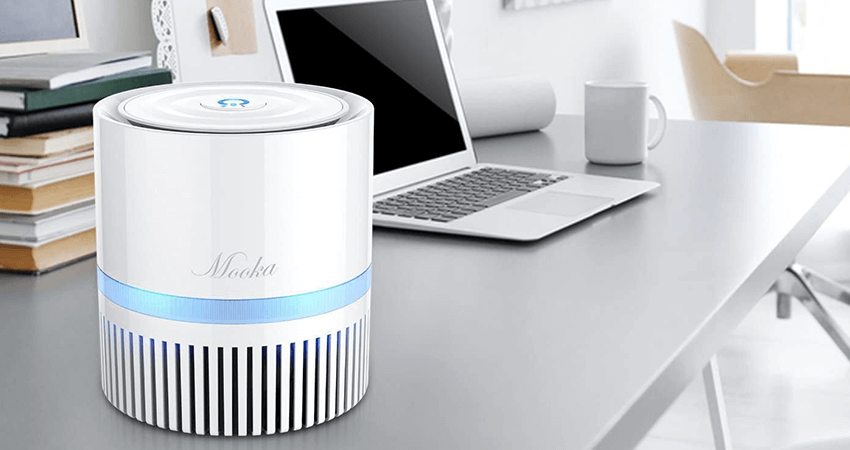 About This Brand:
Mooka is an internationally recognized small appliances manufacturer company that makes high-tech products for the kitchen and home. They have a long product line up, such as air purifier, dehumidifier, humidifier, garment steamer, and so on. They are fighting air pollution with their portable home air purifiers that filter the pollutant particles from your room.
Table of content:
Follow these quick navigation links to jump on the specific parts of the article you're interested in:
Comparison Chart:
If you're looking for a quick guide with the best product chronologically, here is a quick comparison chart for your convenience:
Best 3 Mooka Air Purifier Reviews 2021
Mooka has a long list of products line up, here are the best  Mooka air purifier reviews that you can rely on:
1. MOOKA True HEPA+ Air Purifier
The CARB certified Mooka GL-FS32 air purifier comes with six-points versatile purification technology to keep your family safe from air pollution. It's VOC sensor can detect any pollutant and filter them out with its true HEPA filter, an activated carbon filter. The Negative Ion generator and the UV light sterilizer combined keep out the virus, bacteria, cigar smoke, and any other air pollutant.
You can keep out the pet dander and mold spores with its multi-level filter method, which makes it the best air purifier for mold. For the coverage, it can give you a pure air within 540 SQ feet where it can purify the whole air 4 times every hour. To control the purification system, you can control it with its auto mode with the smart sensor.
For the ultimate convenience, it will light up blue, green, or red depending on the pollution level of your room. You can manually command the filter to sterilize and purify your room with the indication. If you want to remove odor and pollutants from your room with regular or high intensity, it comes with adjustable fan filter speed. It will either speed up on its own automatically or you can use the remote controller to do that.
MOOKA True Features:
This Mooka air purifier comes with 6 points of purifier technology, including True HEPA filter.
It has a VOC absorber with a carbon filter and UV light sterilizer to remove viruses and bacteria.
You can use its automatic pollutant detection mode for continuous air filtration.
It will indicate the air pollution level of your room with ambient light, green, blue, or red.
The filter comes with sleep mode with very low noise for only 28 dB for silent purification.
2. Mooka True HEPA Air Purifier for Home Up to 323ft²
This mooka air purifier with true Hepa filter can filter out the virus, bacteria, and any other pollutant from your room. Its 360° sensor purification technology can detect contaminants as small as 0.3 microns and keep the air fresh. If you have dust or per allergy, you can use it to stay safe from the problem with its 3 in1 smart filter system.
The activated carbon filter will keep your room free from odor and pet dander along with smoke filtration, which is the best air purifier for smoke. It also can neutralize air dust particles and give you healthy air without contamination. You can use it in a 323sq feet room for automatic air detection and filtration with its 5 times an hour filtration mode.
If you're sleeping, you can set the filter in its intelligent timer setting for 2, 4, or 8 hours, where it will detect any pollutant and neutralize it for you. You can also set it on three different speed settings for a high-intensity filtration or silent mode with only 20dB while asleep. It's totally ozone free and works great when mold traps on its filter with its filter replacement reminder indicator.
Mooka True Features:
This air filter comes with a 360° pollutant detection for the utmost filtration system.
With its 3 in 1 filter system, it can filter out viruses, bacteria, smoke, pet dander, and mold.
It can neutralize small allergic dust particles down to 0.3 microns and keep you safe.
You will have a filter replacement reminder when it's time for changing the filter.
It comes with 3 stages of filtration timer setting with 3 levels of fan speed settings.
3. MOOKA Air Purifier for Home, 3-in-1 True HEPA Filter Air Cleaner
This 3-in-1 Mooka air purifier comes with smart filtration with its Preliminary, True HEPA filter, and the Activated carbon filter. All these filters can keep your room free from dust pollen, virus, bacteria, and mold spores or pet dander to keep the air safe. It's totally ozone free, so you don't have an allergic problem or self-odor.
The filter has both 360° intake and discharge outlets for maximum pollution detection and filtration. It can detect smoke or smell and accelerate the purification process, which makes it the best air purifier for kitchen smells. When it detects any bad smell from the kitchen or molten spores, it accolades the filter process and removes it with high speed.
For the speed control, you can operate it with two levels of fan speed, strong air, and whisper-silent. When you set it to silent mode, it will not make noise and go as low as 35dB with the sleep operation mode. It's energy-efficient and comes with CARB certification for better health support and proper respiratory supporting devices.
MOOKA Air Purifier Features:
This air purifier device comes with 3 layer filters with True HEPA, Activated carbon.
It can filter out virus bacteria, dust pollen, mold spores, pet dander, or any other pollutant.
You can use it with dual fan speed and work without making noise with low 35dB noise.
It has a 360° smoke and smell or odor detector and filter for both your kitchen or cigarette.
The Air Neutralizer can trap allergens with its HEPA filter for as low as 0.3-micron dust particle
Is This Brand Product Easy To Use?
Mooka brand products are popular because of their ease of use and minimalistic functionality, yet a ton of features, such as:
The mooka air purifiers come with a smart timer setting that you can use for controlling how long you want to use it for.
You'll get smart filtering features with the Mooka air purifiers that will cleanse your room's air 1-5 times every hour.
You can keep your room pure if you smoke cigars and pollute your home or if you have a kitchen where you have smoke and odor.
Why Choose This Brand?
There are so many different reasons I can give you why you should choose Mooka air purifiers, such as:
Mooka purifiers come with a 3 to 5 smart filter system with a true HEPA filter, Active carbon filters, with UV light sterilizer and fine dust filtration.
They can filter out up to 99.97 percent of viruses, bacteria, and other pollutant particles up to 0.3 microns in size for maximum purification.
You'll get them with a 360° filtration intake and discharge panel collect and distribution system with multiple speed control settings.
Frequently Asked Questions
Here are the most asked questions about Air purifiers that you might have in your mind as well:
Where should I place my air purifier?
You should put it 6 to 10 feet away from your body in the bedroom for the best output.
Do air purifiers improve sleep?
They purify the air from pollutants and give you better sleep with pure air in your lungs.
Should I leave air purifier all day?
If you're always at home, you can leave it on with the fan speed on low if you're energy concerned.
Final Thought
An air purifier is the best option you can invest in if you're concerned about inhaling fresh air for yourself and your family. Breathing in the pure and fresh air will help you have a healthy life with these air purifiers. With the Mooka air purifier reviews, I hope you've found the right product you've been looking for.
However, if you still need an expert suggestion, I'd suggest you go for the MOOKA True HEPA+ Air Purifier. It comes with true HEPA, VOC, and an Activated carbon filter with UV light sterilizer for maximum purification. You will be able to control it with a remote or touch panel with 3 different speed options. For the pollution level, it will indicate you with red, blue, and green light.
Affiliate Disclosure: As an Amazon Associate I earn from qualifying purchases.