According to the EPA, the air inside your house is up to 5 times hazardous than the outside. Air purifiers help us sterilize the indoor air and stay safe from dangerous diseases. On the contrary, we cannot stay without a comfy room with cool air at home in the summer. Hence, the problem is, getting a cooler alongside an air purifier can be costly and makes clutter as well. 
The only way out is using a combo of both an air purifier and a cooler in a single structure. However, the problem remains in getting the best air conditioner and air purifier combo that doesn't suck. There are a ton of considerations to make and our expert team has done the testing and has a list for you. Stick to the article, I have the best air purifier and conditioner combos for your house with polluted hot air.
Table of Content:
Here is a quick navigation list for each part of this article that you might be interested in. Click on the section you want and it will jump you to the specific section:
Comparison Chart:
Running short on time? Here is a quick comparison chart for the air purifier and air conditioner combos we've selected for review:
Best 4 Air Conditioner and Air Purifier Combo Reviews 2021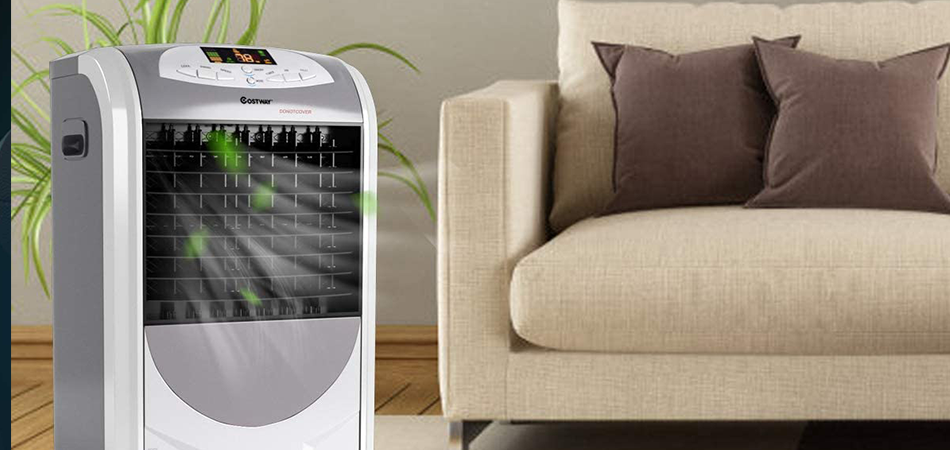 Getting the best air conditioner and air purifier combo surely is a daunting job as the technology is complicated. However, to give you relief, here are the 4 best air conditioner and air purifier combos recommended by our expert team:
1. Dyson Pure Hot + Cool, Hp01 Hepa Air Purifier
The Dyson air purifier gives you not only purification, but also air conditioning, all from a single structure. Alongside purification, it has two functionalities; cooling and heating as well which makes it the best air conditioner and air purifier combo. The heater can get you a warm room in the cold and the cooler gives you soothing air in the summer, convenient!
The HEPA filter cleans 99.97% of airborne pollutants down to 0.3 microns including dust, dander, mold, VOCs, and so on.  It automatically detects bacteria, particles, gases, and pollutants, reports them live on the screen, and cleans them right away. Furthermore, the digital screen indicator will show whether it's heating, cooling, or purifying in real-time.
You can control the features like oscillation direction, airflow, heat, or cold level with the included remote controller. Plus, it gets you over 77 gallons of airflow per second with 10 adjustable levels of airflow. Besides, you get an automated timer setting for each function along with 360° coverage for both detection and purification.
Dyson Pure Hot Features:
This air purifier is capable of purifying the air, heating and cooling, all in one device.
It can purify the air up to 77 gallons with 10 levels of adjustability that has 360° coverage.
The machine has an automatic detection for airborne pollutants and allergens.
It works with a HEPA filter for cleaning up to 99.97% allergens down to 0.3 microns.
You'll get real-time air quality, heat, and cooling tracking on the built-in monitor.
2. Honeywell Hl14ceswk Air Conditioner, 14, 000 Btu, Black/white
This air purifier and air conditioner combo come with a dependable air cooling capability within a 500-700 sq. ft. area. It has over 14000 BTU of cooling capacity to ensure a quick cooling for the air inside your room. Furthermore, the dual filtration modes including a pre-filter and a deep cleaner will ensure you're breathing fresh air.
You'll get a smart humidistat control mechanism to ensure cleaner and healthy air. Plus, you can control how fast the air gets cool or cleaned with 3 fan speed levels. The LCD monitor shows you the current cooling and cleaning state. Besides, the easy accessible control panel will allow you to operate the machine smoothly.
Controlling the machine will be even easier if you use the included remote controller and the 24 hr. sleep mode. Yes, it comes with an energy-saving timer so that you can leave it turned on all day. Don't worry about the noise, it makes only 49-52 dB noise while running at high speed. Installing is easy with the slide-in exhaust hose and a low-profile window vent.
Honeywell Hl14ceswk Features:
This air purifier also cools the air that's capable of 14000 BTU of cooling power.
It can cover a large room of 500 to 700 sq. ft. area effectively without suffocating.
You'll get up to 3 fan speed levels that use the dual filters for cleaning the air deeply.
It has a remote controller along with a digital display and a dedicated control panel.
The machine makes only 49-52 dB noise to use it if you have people in the room.
3. Whynter Arc-14s 14,000 Btu Dual Hose Portable Air Conditioner
The Whynter portable air conditioner with an air purifier is a massive ASHRAE rated 14000 BTU machine. With that much power inside, it can cover a huge 500 sq. ft. space, clean and control the temperature inside. On top of that, it has three different operation modes; conditioner, dehumidifying, and a fan mode with 3-speed levels.
While cooling the room, it also cleans the air and sterilizes it with a high-end activated carbon filter and a pre-filter. On the other hand, the refrigerant is eco-friendly and CFC-free which ensures healthy indoor air. Plus, it takes R-32 cooling gas and RoHS compliant components to keep the indoor air at the cleanest state.
Operating this machine is a breeze because it has a digital display that shows the temperature and other air info. Controlling is even smoother with the onboard control panel or wireless remote control method. You can set it up facing the room in front and leave the connector pipes outside with the window attachment.
Whynter Arc-14s Features:
This RoHS compliant air purifier is CFC-free and takes R-32 cooling gas.
The activated carbon filter can clean the air in your room and sterilize it deeply.
It works with a high-end cleaner and fans that covers up to 500 sq. ft. space.
The machine is ASHRAE rated for 14000 BTU of cooling capability.
You can use a wireless remote controller with it and get updates on the monitor.
4. Costway Air Cooler and Heater, Compact Portable Air Conditioner
Another multipurpose machine with heater, cooler, dehumidifier, and of course, a high-end air purifier, and it's from Costway. This purifier has 3 fan speed levels to match the speed you need for purifying the air in your room. You can control the speed along with other functionalities using the physical buttons or the remote controller from up to 19.5′ away.
It comes with a 7-liter water tank and 2 ice-crystal boxes for the cooler with a honeycomb cooling pad. Plus, the smart dehumidification with water evaporation ensures the best cooling experience alongside the heater. The PTC heater works well keeping your whole room warm during the cold seasons and the swing feature will spread it around.
Alongside the evaporation method, it also detects and cleans the airborne pollutants and keeps the air fresher. It can clean the pollen, mold, allergens, smoke, dander, odors, dust, and other dangerous elements. You can control the temperature and speed levels and get real-time updates for the functions on the digital monitor.
Costway Air Cooler Features:
This machine works with a heater, cooler, dehumidifier, alongside the air purifier.
Its remote controller works perfectly from a distance of up to 19.5′ away.
There is a PTC heater mechanism in it that works for keeping a room warm.
It has a 7-liter water tank and 2 ice-crystal boxes along with a honeycomb cooling pad.
There are 3 levels of fan speed on this machine, adjustable with a remote controller.
Air Purifier Vs Air Conditioner: What're the Differences
Air purifiers and Air conditioners both are indeed necessary for breathing fresh and staying cool. They can help you stay cool in the summer with no pollutants indoors; but what sets them apart and how they work? Here is what you should know about them:
Application range:
The main purpose of the air conditioner is to control the air temperature inside your room and keep it comfortable. Another thing it does is reduce the humidity inside the room as hot air may contain it more than cool air.
On the other hand, an air purifier doesn't cool the room, rather it cleans the air and removes the pollutants. The pollutants may contain allergens, germs, viruses, smoke, VOCs, and other things that are dangerous for human health.
Beneficial aspects:
Air conditioners get you a comfortable environment inside your room and you'll control how much temperature you want with it. It's great for those who have respiratory issues and cannot tolerate a higher level of humidity.
On the contrary, air purifiers improve air quality indoors and help everyone to breathe in a healthy environment. They're rather mandatory for people with allergic and asthmatic issues and skin problems.
Combos do the best:
Both the air conditioners and air purifiers work great for controlling the indoor air and purifying it. However, getting two separate machines can be an issue for some people. They take more place, make clutter, and most importantly, they take a bigger toll on your energy bills. The best option is to go for an air conditioner and purifier combo that does the booth at the same time. You can use it just like any other air purifier and cool the room at the same time, effortlessly.
Where Is the Best Place to Put an Air Conditioner and Air Purifier Combo?
Putting the air conditioner and air purifier combo in a place where it performs the best is important. It helps you get the most out of the machine, stay cool, and breathe fresh air. Here are the things you should know about placing your air purifier and AC combo in the room:
Locating the ideal place:
As it's an air conditioner and needs window attachment, you don't really have a whole lot of options. So, it's about selecting the right window and finding the right place near the window you're placing it. If you select the right machine with a low-profile attachment, it won't make the window look bad from the outside. So, select the window that can serve the whole room rather than a corner. However, if you give it the right direction, it may still be possible to place it near any window.
In the bedroom:
We usually place our air purifiers and ACs in the bedroom because that's where we spend most of the time. If you're doing so, make sure that you're placing it at least 6 feet away from your head while lying. It's to give it enough space to spread the cool and fresh air properly. Plus, it helps you stay safe from direct cool air which may lead you to cold.
In the living room:
If you're putting the purifier in the living room, the most important consideration is location. You must not put it behind furniture like a sofa or too close to it. It won't be able to spread the air if you have obstacles in front of the vent. Another thing to consider is, put it where the pollutants, smoke, and allergens are available.
Why Should You Buy an Air Conditioner and Air Purifier Combo?
There is no doubt everybody needs to have an air purifier in their house to breathe fresh air. Plus, air conditioners are available in pretty much any home, especially in regions with hot air. Getting a combo of both is much better if you're planning to buy any of them, and here is why:
It's much efficient at saving your energy bills because two separate units are costlier than one.
You can save more space if you use a single unit of a purifier and AC combo, especially if you have a small room.
If you don't want to go through the hassle of keeping track of two separate remote controllers, a combo is what you need.
More devices mean more electrical wiring and more installation cost along with the hassle which you can avoid with a combo.
Air purifiers and AC combos are more convenient at moving, disassembling, or shifting houses as you have no hefty actions to do.
Wrapping it Up
To wrap up the whole idea, nobody's safe from pollutants inside a home without a good air purifier. Besides, every home needs air conditioners, anyways; and a combo can serve both purposes very well. I hope, with this thorough guide, you've found the best air conditioner and air purifier combo for your home.
However, if you're still confused between the combos I've listed above, an expert suggestion would be getting the Dyson Hot + Cool, Hepa Air Purifier. Alongside purifying the air and cooling it, you can also get heated air in the cold season. It saves you another couple of hundred bucks from buying a room heater; not to mention its HEPA filter! It cleans 99.97% of the pollutants with 360° coverage and has 10 fan speed levels to meet your needs.
Affiliate Disclosure: As an Amazon Associate I earn from qualifying purchases.