According to the US Environmental Protection Agency, if you stay exposed to high dust particles, you'll get various lung functions. That's why getting an air purifier is the best thing you can do for your vital inner body parts. Blueair air purifiers keep you out of Volatile organic compounds and filter fine pollutant particles even if they are less than 10 micrometers in diameter.
However, Blueair has so many options in their air purifier products to confuse you which one you should go for. So, our expert team has been through them all and made these Blueair air purifier reviews. Stick to the article o treat yourself the best air purifier that can keep you and your family safe and sound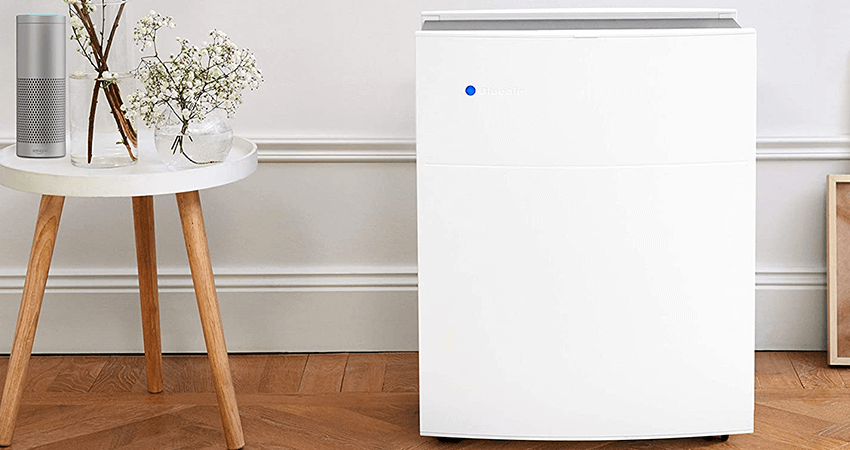 About This Brand:
Blueair is one of the best anti-pollutant companies that are in the quest for fresh indoor air. Blueair started its journey back in 1996 in Stockholm, Sweden, and started making Best in Class air purifiers. They have a variety of air purifiers for all indoor situations like bedroom, kitchen, cabin, large apartment, and so on. They make a series of air purifiers, named Sense, Pro, Joy, Cabin, and the Classic.
Table of Content:
Here is a quick navigation list for the different parts of the article that you can use for jumping to the specific section:
Comparison Chart:
If you're interested to know about the Blueair products in short, here is a quick comparison chart for them to get you an overview:
Best 3 Blueair Air Purifier Reviews 2021
Here are the Blueair air purifier reviews that you can get through to know about the products in detail. They will help you decide the best match for your situation or your home environment:
1. Blueair Classic 480i Air Purifier for home with HEPASilent Technology and DualProtection Filters
The Blueair Classic 480i air purifier comes with a bunch of pollutant sensors like the PM 2.5, VOC, CO2 that detects anything dangerous in the air. It has Hepasilent high-performing mechanical filtration with an electrostatic charge that will effectively filter 99.97% of the pollutants. Its air quality sensors will notify you when the air is polluted in real-time.
The purifier comes with dual protection filter system with activated coconut carbon without any Chemical Additives. It keeps you safe from viruses, dust pollen, mold, pet dander, especially it's the best air purifier for smoke and smell from cigar or kitchen. You can also adjust the speed of filtration with its adjustable fan speed.
You can control the purifier with its built-in wifi connectivity technology. You can get the Blueair friend app to control the machine. Furthermore, it's amazon Alexa compatible, so you can just command Alexa to turn your air purifier on. You can also control the fan and filtration speed with the app within 434 sq feet in your home.
Blueair Classic Features:
This air purifier comes with Hepasilent technology with mechanical filtration.
You can stay safe from 99.97% of airborne pollutants, smoke, and bad odor.
It gives you an activated coconut carbon technology for filtering pollen, mold, pet dander.
It has wifi connectivity with Amazon Alexa compatibility to control with app or voice control.
You can cover up to 434 sq feet with this air purifier and stay out of allergies and lung desires
2. Blueair Blue Pure 411 Air Purifier (2 pack) 3 Stage with Two Washable Pre-Filters
The Blueair Blue pure 411 air purifier comes with Triple filtration with PM 2.5 detection sensors. It can filter out over 99% of airborne pollutants, including dust pollen, bacteria, viruses, smoke, pet dander, and so on. The activated carbon filter will filter out the odor from cooking and mold, which makes it the best air purifier for mold.
It will absorb the polluted air with a 360° filter that goes inside through multiple layers. You can wash the pre-filter with regular water once it's dirty, so you can keep going without wasting it. The intake fan inside the filter has 3-speed levels that you can set on the pollutant level of your room. It can cover Up to 175 sq feet room easily for maximum filtration.
In a room that large, this purifier can purify the air up to 5 times every hour for the utmost pure air in the environment. It has a compact design with a single button located on the top of the filter; all you have to do is press the button and wait for pure air as the filter fan doesn't make much sound and stays as quiet as 17 dB only.
Blueair Blue Features:
This filter has Triple part filtering technology to capture up to 99% of the pollutant.
Its PM 2.5 sensor can filter out any odor, smoke, even pet dander efficiently.
You can get a very quiet filtering operation with only 17-46 dB fan noise levels.
The filtration fan has 3 levels of speed adjustability for low to high efficiency.
It will work up to 175 sq feet room, although the AHAM rating for it is 161 sq feet.
3. Blueair Blue Pure 411 Air Purifier for home 3 Stage
This Air Purifier comes with 3 parts advanced filtration system with the capture expectancy of over 99% pollutants. It can filter out all the common PM 2.5 airborne pollutants, including smoke, Mold spores, Ped dander, any allergens, or Dust mites.
With an Activated carbon filter, it can purify any odor from rotten food from your kitchen, smoke from cigars, which makes the best air purifier for smells. It will work within a small to medium-large room with the space of AHAM verified 161 square feet with its 360° filtration system.
It works with a very quiet certification as low noise as 17 dB for the least amount of speed. The filtration fan works with 3 levels of speed where the highest level makes only 46 dB noise. You will have a compact single controlling button with an energy-efficient service.
Blueair Blue Features:
This air purifier has 2.5 PM pollutant sensors for filtering dust, pollen, virus, bacteria, and so on.
You'll have an activated carbon filter to remove smell and odor from your room or kitchen.
It comes with 3 stages of filtering technology that captures 99% of pollutants.
The fan filter works quite at a noise level of only 17 to 46 dB for the best efficiency.
It has a 360° filter that can capture pollutants from all around the room for quick purification.
Is This Brand Product Easy To Use?
Blueair is working for a very long time in the pollutant purification, and they have successfully made their products easy to use for their customers giving such features:
The Blueair air filters make the least possible noise, which makes the usage of their products super easy to work with, especially while sleeping.
They come with the best controlling system where you can control the purifier with wifi and voice control or a slick and simple one-button control system.
Blueair air purifiers cover a bigger space with at least 160 square feet to over 500 square feet, which is more than enough for an office or home.
Why Choose This Brand?
Blueair Products are not just super easy to use, and they also have some impressive features that make them stand aside from others, such as:
Blueair products have multiple speed control over the filtration fan, depending on the pollutant level in the air.
The automotive pollutant detection system is impressive for Blueair products. They come with 2.5 PM pollutants and VOC sensors.
The Blueair air purifiers can filter out most of the pollutant particles with a very small size, as small as 0.3 microns.
Frequently Asked Questions
Here are the most frequently asked questions about air purifiers that people have been asking about:
Are Blue air purifiers safe?
Yes, the Blueair purifiers are all CARB and AHAM certified, so they are safe to use.
Where should I place my air purifier?
You should always place the purifier about 6 to 10 feet away from your body.
Should I sleep with air purifier on?
Yes, you can set a timer as per your preference and sleep while the purifier is on.
Final Thought
Breathing in polluted air only a few days is enough to infect your lungs and get asthma attacks or heart disease. They can also cause throat, eye, nose irritation, headaches, and damage to your kidney, liver, and nervous system. I hope you've found the right purifier after reading the Blueair air purifier reviews.
However, if you want my best of best preference for the products we reviewed above, it's the Blueair Classic 480i Air Purifier. It comes with some impressive features like Wifi and voice control with Alexa compatibility. You can use it in a whole house with around 450 sq feet with multiple speed levels of pollutant filtration.
Affiliate Disclosure: As an Amazon Associate I earn from qualifying purchases.