Allergens, mold, and mildew in damp basements, bathrooms, or crawl spaces are dangerous. They don't only harm the house's structural integrity but also put you and your family at risk of respiratory diseases.
Using a dehumidifier surely can protect you from them, but that needs you to spare space on your floor. That's not so convenient! The best solution is to go with a wall mounted dehumidifier that fights humidity without making clutter on the floor.
However, getting the best wall mounted dehumidifier isn't a piece of cake since there are so many things to consider. No worries, our expert team has reviewed the best dehumidifiers for the money that are wall-mounted.
Stick to the article, you'll get the right tool to fight humidity in your home to keep your family safe.
Our Editor's pick
Innovative Dehumidifier Systems IW25
IW25-4 On Wall Dehumidifier with combined Bi-Polar Ionization Technology
Independent of HVAC Systems or Condensate Drain
Drains Directly into Existing Plumbing
All Microchannel Condenser Coils
Table of Content:
This table of content is to help you navigate through the entire article conveniently. Click on the title to jump to your desired section or the review for a specific dehumidifier:
2 Best Wall Mounted Dehumidifier Reviews 2021
Getting the best wall mounted dehumidifier won't be a daunting job if you get the experts' suggestion while selecting one. Our team has researched the best dehumidifiers and selected 2 of them that are highly efficient from different aspects. Let's have a look at them!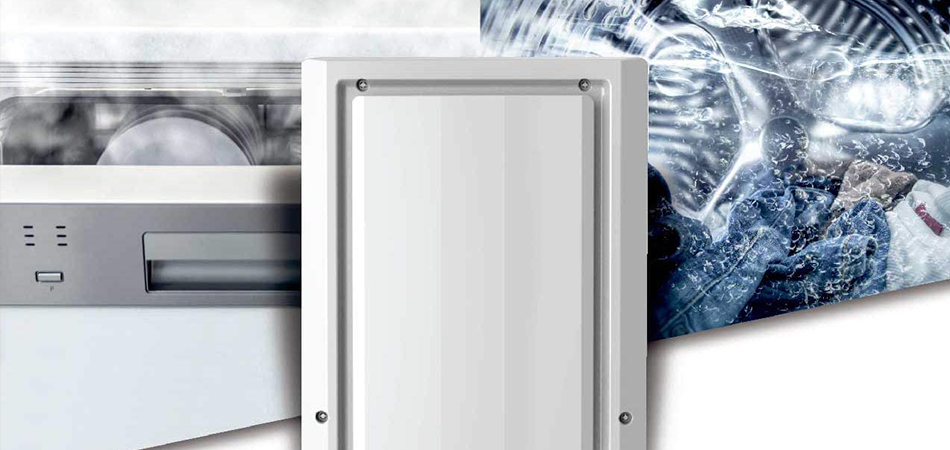 1. Innovative Dehumidifier Systems IW25-4 in Wall Energy Star Dehumidifier
The Innovative in-wall dehumidifier system does a great job at dealing with humidity within a whooping 1500 sq ft area. With its microchannel condenser coils on top and aluminum evaporator coils in the bottom, you'll get superior dehumidification for sure. Besides, it takes over all your humidity issues with its AHAM-defined humidity condition of 60% RH at 80° F perfectly.
For seamless dehumidification, you'll get a powerful evaporator that can extract over 29 points of humidity a day. Since it has both recessed installation or wall hanging capability, it'll be a versatile fit, no matter how you use it. If you're using it on the wall, it comes with a tamper-proof cover for extra rigidity and esthetics as well.
The design also includes an LED visualizer to let you know when you should clean the filters or replace them. No more worries about emptying tanks; the drainage hose will extract the moisture directly to an exterior plumbing source. With seamless dehumidification without making clutter, it works surprisingly quiet while covering a huge area at less than 45 dB.
Innovative in-wall Dehumidifier Features:
The Innovative IW25-4 Dehumidifier can cover 1500 sq ft for fighting humidity.
It extracts a decent amount of moisture of 29 points a day with 60% RH at 80° F.
You can go for both recessed installation or hang it to the wall without hassles.
There is an LED visualizer to let you know that the filters need cleaning or replacement.
It keeps the noise at less than 45 dB which is amazing compared to its operation area.
2. Aprilaire 1820 Crawl Space Pro Dehumidifier, 70 Pint Dehumidifier
This Dehumidifier from Aprilaire is a perfect fit for crawl spaces and large rooms up to 2800 sq. feet. It's capable of extracting a huge amount of moisture off the air over 70 points a day efficiently. Furthermore, it comes with a digital wall mount controller that helps you power the machine. The controller also helps you tune the dehumidification level up or down when the humidity is 60% or more.
Besides, its corrosion-proof aluminum coils will give you efficient control over humidity alongside capturing allergens, mold, rot, and odors. On top of that, you can use it for whole-house dehumidification since it comes with a central basement mounting design. And, sure you can also hang it on the wall or attach it to the ceiling with a central humidity controller!
It also comes with a live RH monitoring technology and you can monitor that using the digital display on its controller. Furthermore, it allows you to remote control the dehumidifier from your room to the basement to give it more convenience. Although it's an industry-grade highly efficient dehumidifier, you can run it with regular household 110V or 120 V electricity.
Aprilaire Dehumidifier Features:
This dehumidifier is capable of covering a whole house of 2800 sq. feet in size.
It can extract up to 70 points of moisture off the air a day which is perfect for basements or crawl space.
You'll get corrosion-proof aluminum coils inside this dehumidifier so that you can put it in the basement.
It comes with a wall-mounted basement controller with a monitor that shows RH level and gives control over it.
The dehumidification level of this machine works when the humidity is 60% or above to keep the air healthy.
What Problems Can an In-Wall Dehumidifier Solve for You?
A dehumidifier in general solves a lot of problems by improving the indoor air. When it comes to in-wall or wall mounted dehumidifiers, the benefits go even further. Here are some some of the most important benefits an in-wall dehumidifier will get you which a regular one cannot:
Space Allocation:
Sparing some space for a dehumidifier on the floor becomes a daunting job if you have a small room. However, if you can use an in-wall dehumidifier, you can avoid thinking about that for sure. When the machine is inside the wall with a seamless mount, your room remains free of unnecessary allocation issues.
Child Control:
Controlling a dehumidifier can be a major issue if you have kids in your house. If you use a portable dehumidifier and keep it laid around, you cannot keep it out of the reach of kids. On the other hand, if you're mounting it into the wall, you can keep it out of the reach of kids.
Passive Drainage:
Most of the portable home dehumidifiers come with a water tank to reserve the extracted water. When you're using an in-wall humidity controller, most of them come with a continuous drainage design. You can easily run a hose from the dehumidifier to the outer plumbing section like a sump pump.
Clutter and Wire:
The biggest issue with the standalone dehumidifiers is the clutter they make. They don't only accommodate the space on the floor, but also need you to run a multiplug across the floor. On the same note, the battery operated ones cannot work highly efficiently. However, with an in-wall dehumidifier, there are no more visible wires or cluttering the floor.
Why Should You Buy a wall mounted dehumidifier?
If you're getting a dehumidifier and have electric clutter, the smartest decision is to go with a wall-mounted one. By the same token, here are a few important reasons why you should consider a wall-mounted dehumidifier over regular ones:
Wall mounted dehumidifiers come with better coverage compared to the battery-operated or standalone ones.
You get a higher dehumidity rate from a wall mounted humidity controller compared to the regular ones.
The wall mounted dehumidifiers give you a better esthetics to the room as opposed to the standalone portables.
Wall mounted dehumidifiers usually come with Integrated Condensate Pumps that are not available with others.
You don't have to pay attention to emptying the water tank ever again even though you're extracting more moisture.
Frequently Asked Questions
People who're using wall mounted dehumidifiers or interested in using one often ask a few questions. Here are some of them; hope you get the answer if you're also wondering with the same questions:
Should a dehumidifier run constantly?
There is no problem with running a dehumidifier constantly, but you shouldn't run it if not necessary. When the humidity level is more than 50%, you should run the controller and keep it between 30%-50%.
Will a dehumidifier kill mold?
A dehumidifier absorbs the excess moisture in a room or house which helps you kill mold. The mold or allergens need humidity to develop or create issues while a dehumidifier controls the humidity.
Is it safe to leave a dehumidifier on all night?
There is nothing wrong with leaving a dehumidifier turned on all night but you shouldn't do so. You need it only with higher humidity; if the machine has a timer on it, use that for proper dehumidification.
Do dehumidifiers use a lot of electricity?
No, if you use a dehumidifier 24/7 for basement humidity control, the cost might become height. However, if you run an average dehumidifier  for 10 hours a day, it may cost you about $160 a year.
How often should I run a dehumidifier?
The best practice is to run a dehumidifier twice a day; 7am and 10pm for an optimal output from the machine. However, if you're using it in a humid area, use the built-in scanner or get a humidity sensor.
Bottom Line
Getting a dehumidifier is surely the best thing to do, especially when you have respiratory issues. A wall mounted one makes humidity controlling even fun as it does the job passively with more power. I hope this article helped you get the best wall mounted dehumidifier that meets your dehumidification requirements.
However, if you want an expert suggestion to get the best between them two, get the Innovative Dehumidifier Systems. It comes with Sturdy aluminum coil to evaporate the moisture at a great amount of 29 points a day. It'll cover over 1500 sq. ft and notify you when to clean the filters and drain the extracted moisture outside.
Affiliate Disclosure: As an Amazon Associate I earn from qualifying purchases.