Are you looking for an air purifier that works great even for patients with asthma and respiratory issues? Chances are, you've already heard about Bissell Air purifiers and are considering getting one from them. Since they have multiple air purifiers, determining the right air purifier can be a daunting job for sure. No worries, this Bissell air purifier review will help you with that by giving you a precise direction.
Our experts have been through all their air purifiers and handpicked the best ones for you. If you need a perfect air purifier from Bissel that does the job well with good coverage, this article will help. Stick with the article to know the best models from this promising manufacturer.
About This Brand:
Bissell is a USA-based home care product manufacturer located in Michigan. They have been in the industry since 1876 and leading the market for great quality and attention to the details. With more than 140 years of experience, they make some of the most advanced air purifiers with high efficiency. Not only that, they offer a variety of patented technologies that prove their worth for high-quality product development.
Table of Content:
Follow this table to navigate through all the Bissell air purifiers or to reach any section without having to scroll:
Comparison Chart:
We've covered multiple air purifiers from Bissell and here's a quick comparison chart for them. It'll give you an idea which product does the job well and matches your application scenario as well:
Top 3 Bissell Air Purifier Reviews
Bissell has multiple air purifiers but we've selected the best 3 in this Bissell air purifier review. Here are the in-depth features of the most promising air purifiers that do what they were made for: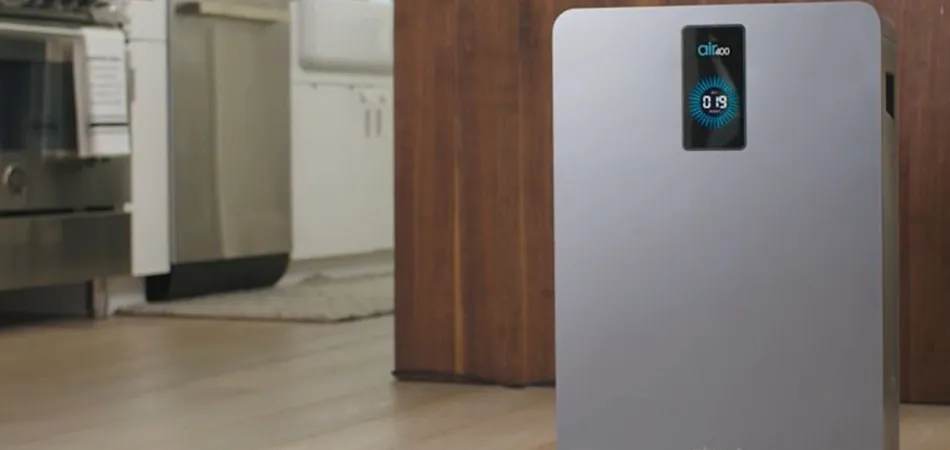 1. Best Overall: Bissell air320 Smart Air Purifier with HEPA and Carbon Filters
The Bissell air320 comes with 3 different types of filtration systems for a deep air cleaning in your living space. It offers a true HEPA filter that gets rid of 99.97% of the airborne pollutants sized down to 0.3 microns. This  fitler keeps you out of viruses, bacteria, pathogens, molds, pollen and other dangerous pollutants.
For the larger allergens like dust and pet dander, there's a pre-filter to keep the air safe for respiratory patients. Furthermore, you'll get an activated carbon filter in this air purifier to keep your room free from smoke, odore, VOCs. With all these filters, it covers a good area of 1000 sq. ft. to cover almost any room in houses or offices.
It includes a soft touch dial controller that gives you an intuitive touchpoint control to operate it. You can control the fan speed, the real-time air quality status as well as the filter reset notification. No worries about clogging the floor dust like typical purifiers because it has elevated platform legs to lift it.
For Whom Is This Product Designed?
This air purifier will be a perfect fit if you need pure air with deep cleaning from allergens and pollutants. It offers 1000 sq. ft. coverage with 3 different purification processes including pre-filter, HEPA, and activated carbon filters. Besides, you'll get a touch control panel with live air quality update and indication for cleaning or changing the filter.
2. Best Value For Money: Bissell air220 Smart Purifier with HEPA and Carbon Filters
The Bissell Air220 is a smart air purifier with a slightly smaller coverage than the previous. It still gives you a good 800 sq. ft. of purification coverage with no less than 3 deep purifier filters inside. You'll get a HEPA filter to take care of a 99.97% of the 0.3 micron airborne pollutants and allergens.
Its pre-filter cleans Dust, pet dander, and other bigger particles leaving the pollen, mites, etc. for the HEPA filter. Furthermore, you'll get an activated carbon filter that eliminates all the smoke, VOCs, odor, and bad smells from your home. It also offers an automated, color-coded CirQulate technology that lets you know the current air quality in the room.
Not only that, it also has an automated filter replacement and cleaning indicator on the LED panel. You'll get a soft touch dial to power it up, control the fan speed, and reset the filter indicator. If noise bothers you while sleeping, this machine has a dedicated whisper-quiet sleeping function for you.
For Whom Is This Product Designed?
If you have a smaller space to cover, the air220 is the best air purifier for dorm room, study or small  bedrooms. For the reduced coverage to 800 sq. ft. from this air purifier, you're getting a hefty price-cut as well! Accessing the filters becomes a breeze with its easy mechanism and control is even easier with touch point dial.
3. Best For Small Rooms: BISSELL MYair Purifier with High Efficiency
The Bissell MyAir air purifier does a really good job at keeping a small space pollution-free. It's a perfect piece for covering up to 100 sq. ft. which is enough for a personal room or a small bedroom. There is a 360° multifunctional 3-in-1 in it filter that absorbs the airborne particles sized at 0.3 microns.
You can eliminate up to 99.97% of dust, dander, pollen, allergence, even smoke, odor and VOCs using this filter. Operating the machine is fairly simple with its intuitive touch screen control panel on the top. You'll get a fan speed controller button which gives you 3 levels of air purification power.
Furthermore, it has a timer that allows you to set the machine to turn off automatically after, 1, 4, or 8 hours. There is also an ambient night light in it for better sleep; you'll have a dedicated button for that. Accessing, checking for replacement or cleaning the filter is a breeze with its twist lock design.
For Whom Is This Product Designed?
This one is for those who need a personal air purifier to cover a place up to 100 sq. feet. It gives you an intuitive smart touch screen control panel to operate the functionalities. You'll get a fan speed control button with 3 speed levels alongside an optional night light function. There's also a timer to set the machine to turn off after 1, 4 or 8 hours of purification.
Why Choose This Brand?
Before you trust or choose any brand for any product, you must know what makes it stand out. The same thing goes for Bissell and there are legit reasons behind this manufacturer's trustworthiness and popularity. Here are some of the key specifics about their air purifiers that make them dependable for high-quality products:
Bissell has a huge experience in making household products that makes them savvy in the field. If you want to get an air purifier with good features and purification capabilities.
They make their products with specific coverage and they have an array of air purifiers for different coverage ranges. You can get a Bissell air purifier for anywhere between 100 to 1200 sq. ft. range.
You will get multiple purification stages from any of the Bissell air purifiers and they don't compromise here. Therefore, regardless of the price range of their air purifier, there will be a deep purification for the pollutants.
To operate the purifiers easily, Bissell includes some sophisticated control panels. You can get touch screen control panels, all in one intuitive touch dial operator from them.
Another good thing about their air purifiers is the distinct design languages that set them apart. They usually include an elevated bottom to the bitter air purifiers to keep it away from the direct contact of dust from the floor.
Final Verdict: Which One to Go For?
Bissell air purifiers are great at delivering high-quality air within your living or working area by cleaning the airborne pollutants. We've selected 3 of their most futuristic air purifiers with versatile features and functionalities. So, which one to pick from this Bissell air purifier review? The answer depends on how big a space will this machine clean and whether you'll move it or not.
If you want the best overall air purifier that'll work for different room sizes, go for the Bissell air320 Smart Air Purifier. It has a big 1000 sq. ft. coverage with 3 levels of purification stages for deep air purification. Furthermore, it gives you an automated air quality indicator with an intuitive touch dial controller to operate it.
Affiliate Disclosure: As an Amazon Associate I earn from qualifying purchases.