Are you living with a ton of pollutants and need a solution without moving out? Getting an air purifier that eliminates the impurities can be your best solution. Well, you need the right purifier that doesn't fall short in intense purification. When it comes to insane efficiency, Life Cell is a reliable manufacturer that has proven its worth.
However, they have a few different line-ups, and the life cell 2550 seems to be the best one. In this life cell 2550 purity plus 5 stage air purifier reviews, we'll break down why it's so popular, for which features. We've researched all their purifiers, selected the Asept Air 2550, and decided to review it in this article for you!
Life Cell 2550 Purity Plus 5 Stage Air Purifier Reviews
Before we start the life cell 2550 purity plus 5 stage air purifier reviews, let's state why we've selected this one. You're getting the capability of purifying your whole house without needing a second purifier if you get this. Sounds promising? Here's an in-depth review from years of our experience with air purification technology: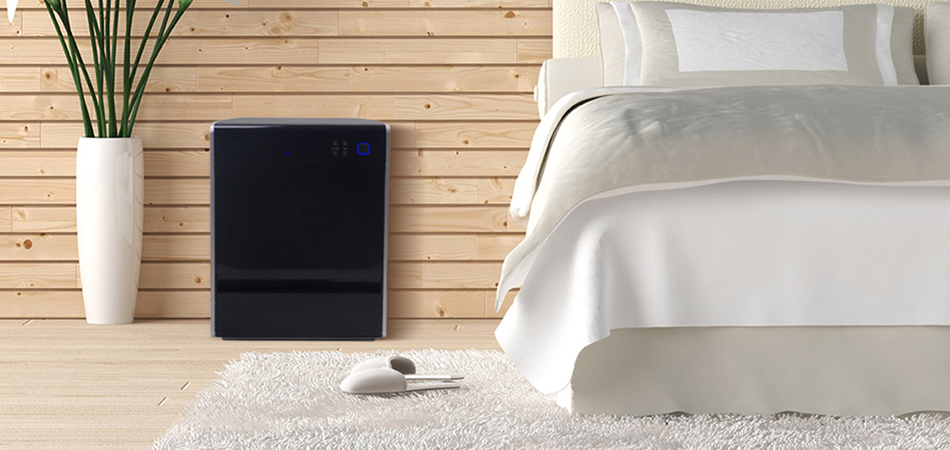 Asept-Air LIFE CELL 2550 5-Stage Ultimate HEPA & CARBON Air Purifier
The Asept Air 2550 is the flagship air purifier from Life Cell that includes 5 stages of intense purification. You'll get a washable antimicrobial pre-filter to start the purification process followed by a 2-stage H13 Medical-Grade True HEPA filter. This HEPA purifier is capable of eliminating 99.97% of pollutants, pathogens, viruses, and bacteria.
Not only that, it offers another 2-stage activated carbon filter which is for intense purification. It'll detect and trap smoke, bad odor, molds, and spores from the narrow and concealed spaces in your home. You're getting a whooping 2550 sq. ft. of whole house coverage of trapping germs as small as 0.1 microns. With a very simple control panel of only 5 buttons, operating this air purifier becomes a ton easier.
Alongside a power button, there're 2 fan speed buttons and 2 more for adjusting the purification timer. Furthermore, you'll get an indicator LED display for the timer with a standby LED indicator. Besides, there are 4 different LED indicators for fan speed levels along with an automated filter checking indicator. You'll 350-CFM of airflow with a noise level of 26 dB up to 51 dB at the highest fan speed. Whisper quiet!
Specification
Form factor: portable and adjustable
Purification coverage: 2550 square feet.
Purification stages: 5 levels
HEPA filter: Yes, medical grade, H-13
Carbon filter: Yes, Dual stage
Filter washability: Yes, for the pre-filter
Purification timer: Yes, with LED indicator.
Control panel: Yes, manual with buttons
Fan speed levels: 4 levels, with LED indicators.
Filter checking: Automated, with LED indicator.
Fan loudness: 26dB – 51 dB
Certifications: Energy Star, EPA, California Air resources board.
Asept-Air Features
This air purifier has huge coverage of 2550 sq. ft. for a hall room or a whole house with only 26-51 dB noise.
It offers 5 stages of air purification including dual HEPA-13 filters and dual Activated carbon filters.
You'll get full control over this purifier with an extensive control panel for both fan speed and filtration timer.
The control panel has an LED timer indicator alongside a standby LED indicator for effortless operation.
It also has an automated filter changing status indicator alongside 4 fan speed LED indicators.
How to Use This?
Using the life cell 2550 air purifier is really a breeze with a very minimal setup process. Here are the things you'll need to do after getting this air purifier in hand to start using it:
Assemble the Purifier:
The life cell 2550 purifier comes disassembled in the box and you need to assemble the purification filters yourself. First, take the plastic covers off the HEPA and Carbon filters as well as the purifier itself. Then, put in the carbon filter inside followed by the HEPA filter to assemble the internals. After that, put in the washable pre-filter and then the outer lid shell to complete the assembly process.
Connecting and Checking:
Once you have it all set up, check if there are no plastic wrappings left behind with any filters; it's important. Now, connect the plug into a wall socket and push the power button on the control panel of the purifier. You must keep in mind that the outlet has to be all OK and not faulty. Check the power cord from the purifier as well before plugging it into the wall socket.
Running and Controlling:
If the purifier powers up, check if the timer function is working as well as the fan speed buttons. It is to understand if every function is working well and to check if it's ready to do its job. See if the filter status LED indicator is lit as it determines if you have a functional filtration process. Change the fan speed according to the size of your room and the purification speed you need.
Using the timer function:
People usually go for the timer function before going to the bed or when they'll be out, absent to shut-off. Either way, learn to use the timer function for better control over the air purifier. There are two buttons with Plus and Minus signs along with a timer indicator alongside. Use that button to increase or decrease the timer and the LED display will show you the output.
Frequently Asked Questions
People often ask a few repeated questions about air purifiers to us and here are some of them with answers:
Is it OK to leave air purifier on all night?
Leaving an air purifier on all night has no harm except a slightly higher electricity charge. If your house has a lot of pollutants, leave it on because breathing bad air costs more than electricity.
How many hours a day should you run an air purifier?
The run time for an air purifier depends on how much pollutants you have to clean. If you have an asthma patient in your house, it's better to run it for 12-14 hours a day to breathe fresh air.
How long does it take an air purifier to clean a room?
It depends on how big a room you have and how efficient the purifier is to do the job. Depending on the capability, the purifier takes about half an hour to two hours to clean a room.
How to clean asept air filter?
Open the lid, wash the pre-filter, vacuum the HEPA-13, and activate the carbon filter to clean the Asept air filter. You should also clean the internal spaces before reassembling the air purifier.
Do air purifiers use a lot of electricity?
Air purifiers with 1000 sq. ft. coverage usually need 50 watts of electricity to run. It's more efficient than a regular 65-watt light bulb or a 350-watt computer and will cost up to $120 a year.
Final Thought
Getting your first ever air purifier can be a tough job, especially for a big house with excessive pollutants. Life cell as a reliable air purifier manufacturer makes the perfect machines to cover large areas with intense purification. We hope that the life cell 2550 purity plus 5 stage air purifier reviews helped you know it well.
It doesn't only have a huge coverage for the whole house or large hall rooms, but also is quiet. You're never going to complain of allergic issues for dust, pollen, and germs if you have this purifier working to purify the room. Thus, the variable fan and purification speed will help you get things even further for both small and large rooms.
Affiliate Disclosure: As an Amazon Associate I earn from qualifying purchases.